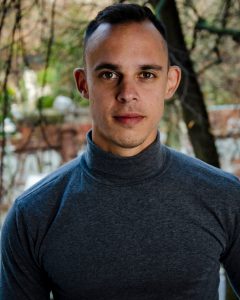 Born in 1988 in Melbourne, Australia, Jaret Choolun learned piano and choral singing in his youth, eventually singing with The Australian Voices for many years and studying composition at the Queensland Conservatorium under the tutelage of Stephen Leek. Following a brief year of music education studies Jaret took flight from Australia, nestling in Bremen, Germany, where he took over Northern Spirit chamber choir from Gordon Hamilton. There, he mostly worked on discovering German culture and language, as well as bits of himself and how to make sense of the world as an immigrant musician. He brought Northern Spirit to both the 2015 Krakow International Music Festival and the European Choir Games in 2017, winning accolades at both and premiering new music along the way. Northern Spirit continues to feature at the deutsches Chorfest as well as other festivals around Europe.
Moving to Berlin in 2018, Jaret leads a number of choirs there, and enjoys the continued discovery of his own musical language in varied styles. He writes and arranges folk song, gospel, pop and art music for choirs in Germany as well as in Australia.  Choolun's recent focus is exploring the darker corners of semi-improvised music, giving performers the opportunity to invest more of their raw, personal expression into the music and putting less emphasis on creating a clean or finished sound.  Outside of his career, Jaret contributes to various other fields of community culture completely separate from music, including blogging and podcasting for a niche within the LGBT community. 
Notable milestones:
Performance of Disclosure II (2021) at Canberra International Music Festival, by The Australian Voices, a piece requiring singers and audience to close their eyes for the duration of the performance.
A collection of German folk song arrangements, "Kuckuck!" (2012-2021).
2019 music featured on an episode of BBC's Crowd Science, Can singing improve our health?
2019 commissioned by the Hunter Singers and Brendan Wiseman for their 30th anniversary celebration concert. Gaia's Song was written in collaboration with acclaimed children's poet, Tess Rowley, and is an appeal to preserve the Earth. The premiere took place as the Hunter region, like many regions around Australia, experienced one of the worst bushfire seasons to date, known as the Black Summer.
2019 Commissioned by Musikland Niedersachsen for the opening concert in a year long celebration of organ builder Arp Schnitger.
2nd place at the 2017 Voces8 (VCM Foundation) composing competition. Jaret had the honour of hearing his Lullabye for the Christ Child premiered in concert at the awards ceremony. 
2017 Performance at Musik und Licht am Hollersee with Northern Spirit and Bremen Youth Symphony.
2017 Northern Spirit's first CD production, recorded at Bremen Sendesaal.
2017 gold medal at the European Choir Games in Riga, Latvia, in the chamber choir category, leading to qualification for and subsequently another gold medal in the Grand Prix competition round.
2015 Krakow International Choir Competition, Cracovia Cantans, second place in the chamber choir category, as well as winner of the prize for best interpretation of a Polish piece by a foreign choir, performing Romuald Twardowski's Morze.
2014 writing of Disclosure for The Australian Voices Six, performed on their tour in the United Kingdom and eventually also in Australia. 
2009 Alan Lane Award for composition
2008 ASME young composers competition, first prize
2007 AG Francis prize for composition