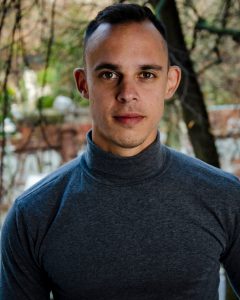 Australian choral conductor and composer Jaret Choolun (1988) grew up in Brisbane with the Kodaly method, singing, choir, piano, and band. He won his first songwriting award at age 15, and continued to amuse himself in the practice, going on to study at the Queensland Conservatorium under Stephen Leek, during which he received the Alan Lane award, the A.G. Francis Prize as well as the ASME Young Composers Prize. He sang with many choirs in Brisbane, most notably The Australian Voices, where he learned about key elements of choir music, its possibilities, techniques and industry. Following this Jaret opted to explore a harder life in a foreign country, Germany, where he still lives 11 years later. Throughout this time Jaret has conducted 10 different German choirs, among them his baby Northern Spirit, an a cappella vocal group dedicated to the performance of modern art music from Australia. All of Jaret's most successful music has been premiered with this ensemble, including A Summer Storm (2014), Flight (2016), Sea Fever (2018), Bolle (2021), and Phos (2022), the latter two being commissioned with generous assistance from the BMCO Deutschland's program for reviving amateur music in Germany. Northern Spirit has also been Jaret's willing guinea pig in testing his German folk song arrangements, which he is currently working to publish and make available to the German choir community. Under his lack of baton Northern Spirit has received awards at the Krakau International Choral Festival (2015), the European Choir Games in Riga (2017), and the Deutsches Chorfest in Leipzig (2022), and has toured to England, Poland, Latvia, Denmark, and Sweden. In 2017 they released their first CD, featuring music from Germany and Australia.
Jaret's other commissions include works Disclosure I (2014) and II (2020) for The Australian Voices; Desiderat (2019) for choir and organ for the Arp Schnitger Orgeltage; Gaia's Song (2019) for the Hunter Singers; and The Austral Planes (2022) for the Liedertafel Obernzell, the proceeds of which he donated to a German queer non-profit organisation repatriating queer Ukrainian refugees. Jaret's arrangements of German songs include Berliner Luft (2019) and the queer anthem Das Lila Lied (2022) for the QuerChorallen Berlin (which he co-conducts), Bolle (2021), Auf de schwäbsche Eisebahne (2017), Wohlan die Zeit ist kommen (2013), Auf einem Baum ein Kuckuck (2015), Der Kuckuck und der Esel (2016), and Christmas songs Leise rieselt der Schnee (2015), and Oh Wiehnachtsmann (2021). His piece Lullaby for the Christ Child (2019) was premiered by Voces8 at their composing competition, for which he was awarded 2nd place. That same year his music featured on the BBC podcast Crowd Science. 
In mid 2023 Jaret will pass on Northern Spirit and look towards new projects and commissions in Berlin and around the world, in collaboration with composers, choirs and instrumentalists, and focusing in more detail on the improvised, the primal, and the confronting. For fun he also writes Gospel music for the GospelKollektiv Berlin, which he co-conducts with fellow Australian Andrew Guy. In his spare time Jaret also hosts a successful podcast and blog in the area of gay men's health. In January 2023 he married his partner of 15 years.