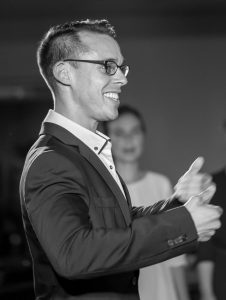 Jaret Choolun (born in Melbourne, Australia) is an award-winning composer and choral conductor resident in Berlin, Germany. He first learned music through the Kodaly method, and sang in choirs and played piano from an early age. Jaret studied composition with Stephen Leek at the Queensland Conservatorium, Griffith University, graduating in 2010. During this time, Jaret discovered the true breadth of modern music for voices and was particularly motivated to pursue this in his writing, producing pieces for solo voice, unaccompanied choral music as well as chamber operas, and was awarded prizes and honourable mentions for his pieces from organisations such as the Australian Society for Music Education and the Barbara Blackman Prize. Concurrently Jaret sang with and composed for internationally awarded ensemble The Australian Voices, led by Stephen Leek and later Gordon Hamilton. This included year-long residencies with the choir as Young Composer as well as Conductor in Training.
In 2012 Jaret relocated to Europe and took over the direction of Northern Spirit, a chamber choir in Bremen, Germany, which had been founded by Gordon Hamilton with the special purpose of championing Australian choral music away from home. As a choral conductor, Jaret has driven Northern Spirit to win multiple awards, including the prize for best foreign choir performing a Polish piece at the 2015 Krakow International Choral Competition, and in 2017 two gold medals in the chamber choir division at the European Choir Games in Riga, Latvia, where among other pieces they performed György Orbàn's Pange Lingua as well as Choolun's arrangement of the Australian folk song Botany Bay. That same competition saw Northern Spirit pushed through to the Grand Prix final of the competition, where they also achieved gold medal percentage points. Also in 2017 under Choolun's direction Northern Spirit produced its first CD, featuring his piece Flight, among a collection of folksong arrangements and pieces from the Classical a cappella canon.
Jaret's piece Lullaby fort he Christ Child received 2nd place at the VCM Foundation's 2017 inaugural composing competition, receiving a first performance by renowned British group Voces8. From 2018 Jaret has has incorporated accompanied choral music in his repertoire, producing his Particles of Cosmic Dust for choir and orchestra, as well as Desiderat for chor and baroque organ, which received their premieres in and around Bremen, Germany, the latter being performed in a festival celebration of the organ builder Arp Schnitger. Now resident in Berlin, Jaret continues to write choral music for Northern Spirit and a number of choirs in Berlin, as well as choirs back home in Australia. He additionally gives composition workshops to high school students, and has written arrangements for the Berlin International Music Program, annually bringing international schools together for a festival of music. In April 2020 Jaret will conduct Northern Spirit at the German national choir competition, Deutscher Chorwettbewerb, where they will give the premiere performance of his newly arranged German folk song, Bolle reiste Jüngst zu Pfingsten.
Jaret's principal work of 2020 is a comment on Australian history and current events in three movements, entitled Dirt Cry.